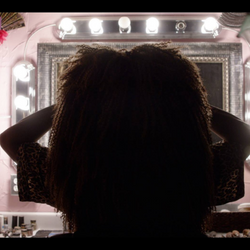 When: Thursday, March 9, 2023
5:00 PM - 7:30 PM Central
Where: Block Museum of Art, Mary and Leigh, Auditorium, 40 Arts Circle Drive, Evanston, IL 60208 map it
Audience: Faculty/Staff - Student - Public - Post Docs/Docs - Graduate Students
Cost: FREE & OPEN TO ALL
Contact: Block Museum of Art (847) 491-4000

Group: Block Museum of Art
Co-Sponsor: School of Communication

Category: Academic
Description:
BEING BEBE
(Emily Branham, 2021, 93 min, digital)

IN PERSON: EMILY BRANHAM AND MARSHALL NGWA AKA BEBE ZAHARA BENET WITH E. PATRICK JOHNSON

"BEING BEBE is the story of Marshall Ngwa, a Cameroonian artist whose identity hinges on the complicated success of his drag persona, BeBe Zahara Benet. Grounded by Marshall's own present-day narration, the film features 15 years of vérité, interviews, and performances. Viewers follow Marshall's remarkable immigrant journey from the earliest days of his amateur drag performance career in Minneapolis, circa 2006, to becoming the first winner of the now-iconic reality show RuPaul's Drag Race in 2009. As Marshall fights to maintain the trajectory of his career despite a series of difficult setbacks, the film reveals what it means to celebrate and advance Queer Black Excellence during the 2020s. Alongside Marshall's story, viewers are introduced to LGBTQ+ youth and activists in Cameroon, where Queer identity is criminalized." --Good Docs
Followed by a conversation with Emily Branham and Marshall Ngwa AKA BeBe Zahara Benet, moderated by E. Patrick Johnson (Dean of the School of Communication).
About the guests:

Emily Branham is a filmmaker who specializes in unexpected, intimate, and deeply human films about artists. Her first feature documentary, BEING BEBE, premiered at Tribeca Festival, was a New York Times Critic's Pick, won Jury & Audience Awards on its festival tour across 5 continents, and was picked up by Fuse Media in the US as well as OUTtv, FrootTV, SVT and DR in territories worldwide. She studied Radio/TV/Film on the directing track at Northwestern University and lives in New York City.
BeBe Zahara Benet is equal parts bold, beautiful, and business-minded. Simply stated: The international recording artist, TV personality, activist and pop culture provocateur breaks the entertainment mold. Benet is best known as the inaugural winner of RuPaul's Drag Race, the star of TLC's Dragnificent and the subject of the award-winning documentary Being BeBe.

E. Patrick Johnson is the Dean of the School of Communication and the Annenberg University Professor. A scholar/artist, Johnson performs nationally and internationally and has published widely in the areas of race, gender, sexuality and performance. Johnson is a prolific performer and scholar, and an inspiring teacher, whose research and artistry has greatly impacted African American studies, Performance studies, and Gender and Sexuality studies.
Presented by the School of Communication at Northwestern University.