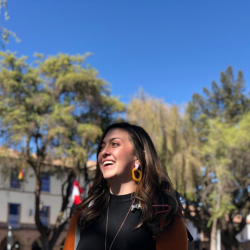 When: Friday, May 12, 2023
12:00 PM - 1:30 PM CT
Where: Scott Hall, 212, 601 University Place, Evanston, IL 60208 map it
Audience: Faculty/Staff - Graduate Students
Contact: Ariel Sowers (847) 491-7454

Group: Department of Political Science
Category: Academic
Description:
Please join Comparative Politics Workshop as they host Sarah Moore, a political science Ph.D. candidate at Northwestern.
While probability sampling is the gold standard of survey research, achieving full probability sampling designs is either prohibitively expensive or impossible, doubly so when considering sampling 'hard-to-reach' populations. Emerging research on survey design and analysis presents different statistical and model-based solutions for hybrid sampling strategies that combine non-probability survey techniques with existing probability samples. However, the literature thus far has not addressed a design-based logic to combine probability and non-probability survey designs. This paper first argues that hybrid sampling decisions for both design and estimation must consider the contours of the overarching population of interest, and what contextual conditions might shape population characteristics. Second, this paper argues that the conversation about hybrid sampling is especially relevant to political scientists. The continued exploration of the utility of hybrid sampling will benefit from the participation of political scientists with intimate contextual knowledge, both thematic and geographic, that supports decision-making related to hybrid sample design and estimation.
Sarah Moore is a PhD Candidate in the Department of Political Science and a Master of Science Candidate in the Department of Statistics at Northwestern University. work broadly engages in the development of quantitative and qualitative empirical research methods and comparative politics in Latin America. She is specifically interested in applying these methodological innovations to the study of violent conflict and the challenges it poses to development in rural Latin America.