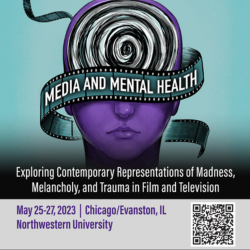 When: Friday, May 26, 2023
All day
Where: Abbott Hall, Room 203, 710 N. Lake Shore Drive, Chicago, IL 60611 map it
Audience: Faculty/Staff - Student - Public - Post Docs/Docs - Graduate Students
Contact: Kate Erskine

Group: Buffett Institute for Global Affairs
Sponsor: Pritzker Pucker Studio Lab
Category: Global & Civic Engagement
Description:
Join us for this three-day symposium hosted by the Remaking Media and Mental Health Across Cultures Northwestern Buffett Global Catalyst Grant Group—which includes Rebecca Seligman, Peter Locke, Dave Tolchinsky and Kate Erskine—and the Northwestern Pritzker Pucker Studio Lab for the Promotion of Mental Health via Cinematic Arts, and supported by the Northwestern University Office of the Provost's N. W. Harris Lecture Fund.
PROGRAM FOR FRIDAY, MAY 26:
12:00 p.m. | Lunch and Keynote with Stephen Harper: "From Medicalization to Metamodernism: Reflections on Recent Popular Portrayals of Mental Distress"

Stephen Harper is a Senior Lecturer in the School of Film, Media, and Communication at the University of Portsmouth. Author of Madness, Power, and the Media: Class, Gender, and Race in Popular Representations of Mental Distress and Insanity, Individuals and Society in Late-Medieval English Literature: The Subjects of Madness, and articles including "Media, Madness, and Misrepresentation: Critical Reflections on Anti-Stigma Discourse," "Understanding Mental Distress in Film and Media: a new agenda?"
3:00 p.m. | Coffee and Panel Discussion with Rebecca Seligman, Stephen Harper and Richard Reinhardt: "Madness and Melancholy in Twenty-First Century Visual Culture"

In a global landscape that is reshaped daily by the coronavirus, climate change, refugee crises and economic polarization, mental illness, particularly depression and melancholia, is an escalating public health concern. As we grapple with immense change, it is increasingly difficult to differentiate between the clinical and the cultural in diagnosing, understanding, and representing the psychological effects of our historical present. In a moment when crisis is ordinary, how do filmmakers portray its psychological toll? How do artists capture the overwhelming nature of our global condition and its impact on the individual? What are the aesthetics of depression and melancholia in film and television in the last decade? How do we translate cultural trauma through representations of mental illness?  
7:00 p.m. | Screening of Two Distant Strangers and Discussion with Emmy-Winning Director Travon Free: A reception with wine and hors d'oeuvres will follow a post-screening discussion of the short film with Travon Free, moderated by Harvey Young.
Travon Free is a two-time Emmy Winning and Peabody winning actor, writer and comedian. Writing credits include The Daily Show, Samantha Bee, Black Monday, and Camping and many more. He is also writer/director of the Academy-award winning short, Two Distant Strangers. Travon's writing can be found all over the web, as he is one of the most sought after young comedic voices on social, political and pop-culture issues.

Harvey Young is Professor and Dean in the College of Fine Arts at Boston University. Author of seven books, including Embodying Black Experience, winner of "Book of the Year" awards from the National Communication Association and the American Society for Theatre Research and, most recently, Black Theater is Black Life: An Oral History of Chicago Theater (coauthored with Mecca Zabriskie). Young's research on the performance has been profiled in the New Yorker, the Wall Street Journal and the Chronicle of Higher Education. As a commentator on popular culture, he has appeared on CNN, 20/20, and Good Morning America as well as within the pages of Vanity Fair and People.