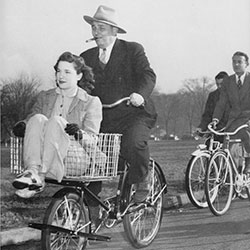 When: Friday, May 19, 2023
5:00 PM - 6:30 PM CT
Where: University Library, Transportation Library, 5th Floor, 1970 Campus Drive, Evanston, IL 60208 map it
Audience: Faculty/Staff - Student - Public - Post Docs/Docs - Graduate Students
Contact: Rachel Cole (847) 467-5325

Group: University Libraries
Category: Lectures & Meetings, Social
Description:
Join bike rider, transportation advocate and policy historian James Longhurst as he tackles the question: why are most American cities still so ill-prepared to accommodate cyclists as a part of daily transportation? 
In many American cities, the bicycle is back as a part of people's daily lives, but so are arguments about where it belongs. One bike-riding historian is taking to the road to talk about these conflicts, and what we can learn from the past.
History professor James Longhurst is the author of Bike Battles: A History of Sharing the American Road, which examines debates over bicycles and their place in society since the 1870s. At a time when bikes are struggling to fit into city streets nationwide, the book is making a splash with a wide variety of audiences.
Longhurst will speak at Northwestern University on Friday May 19 at 5PM in the reading room of the Transportation Library.
The subject of the speech is the federal Victory Bike program in World War II; a largely-forgotten attempt to replace personal automobile trips with bicycle commuting as a part of nationwide gasoline, rubber, and metal rationing. Longhurst presents new research into the size and scope of this federal policy, and its unexpected outcomes limiting postwar bicycle use. A wartime industrial production center, the Chicago area was particularly involved in the surge in wartime bicycle commuting and the Victory Bike rationing project.
About James Longhurst
James Longhurst is a historian of urban and environmental policy at the University of Wisconsin – La Crosse. The author of the book Bike Battles: A History of Sharing the American Road, he combines historical research and transportation advocacy.