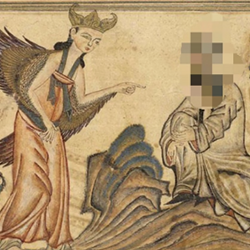 When: Tuesday, February 13, 2024
5:00 PM - 6:30 PM CT
Where: Block Museum of Art, Mary and Leigh, Pick-Laudati Auditorium, 40 Arts Circle Drive, Evanston, IL 60208 map it
Audience: Faculty/Staff - Student - Public - Post Docs/Docs - Graduate Students
Contact: Elizabeth Upenieks (847) 491-7597

Group: Department of Art History
Category: Academic, Fine Arts, Lectures & Meetings, Religious, Multicultural & Diversity
Description:
Winter 2024 Warnock Lecture, presented by the Department of Art History
Lecture: 5–6:30pm
Public Reception: 6:30–7:30pm
Devotional depictions of the Prophet Muhammad made between 1300 and 1600 CE have long served as core content in university courses surveying the history of Islamic art. In such pedagogical settings, professors introduce students to a range of pictorial materials, fine-tuning exercises in visual analysis and discussing the role of figural imagery in Islamic lands across the centuries. Over the past two years, however, three events have challenged the display and teaching of these images: first, the debacle at Hamline University, where administrators mislabeled premodern Turco-Persian paintings of the Prophet as "Islamophobic," leading to the non-renewal of an adjunct faculty member; second, the Asia Society Art Museum's blurring of several such images in a virtual tour of an exhibition; and third, an Islamist 'crashing' of an Istanbul-based Muslim devotional arts exhibition that included modern calligraphies and images dedicated to the Prophet Muhammad. All three incidents placed art historians and artists in the crosshairs, while Islamic paintings of the Prophet themselves became the targets of pietistic superscripts, of motions to dismiss, and of Islamist attacks, the latter of which were countered and mocked within a Muslim cultural context. This talk explores all three episodes to pinpoint and disambiguate the various machineries and matrices of meaning-making within global identitarian politics as these intersect with—and even endanger—Islamic paintings of the Prophet Muhammad.