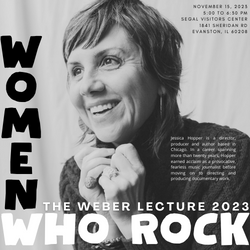 When: Wednesday, November 15, 2023
5:00 PM - 6:30 PM CT
Where: Segal Visitors Center, Auditorium, 1841 Sheridan Rd, Evanston, IL 60208 map it
Audience: Faculty/Staff - Student - Graduate Students
Contact: Ariel Sowers (847) 491-7454

Group: Department of Political Science
Category: Academic
Description:
Please join the Political Science Department as they host their Alban Weber Distinguished Speaker for Fall 2023, Jessica Hopper.
Jessica Hopper is a director, producer and author based in Chicago. In a career spanning more than twenty years, Hopper earned acclaim as a provocative, fearless music journalist before moving on to directing and producing documentary work. Most recently, Hopper directed and executive produced the upcoming four-part docuseries Women Who Rock, releasing summer of 2022 on Epix and Sky. She is also executive producing a feature documentary, based on her history of Lilith Fair, with White Horse Pictures, which will be released in 2023. She has written for GQ, Rolling Stone, The New York Times Magazine, The Guardian, Elle, and Bookforum. A long time contributor to the Chicago Reader and she was also a columnist for the Village Voice, Chicago Tribune, and Punk Planet, as well as the music consultant for This American Life for eight years. Her first book, The Girls Guide To Rocking (Workman, 2009) was named a Notable Book for Young Readers by the American Library Association.
The Department of Political Science hosts an annual speaker series in honor of the late Admiral Alban 'Stormy' Weber. The gift by Admiral Weber brings to campus a speaker of note from public service and academia, to address comparative government and the United States' role in the world. The evening is a notable event on the Department's calendar of extracurricular activities, and draws a large audience of students (both undergraduate and graduate) faculty, staff, and the general public. The speakers are consistently people of great accomplishment, experience, and passion, and they come to campus with the objective of passing on their insight to students and others in Political Science.