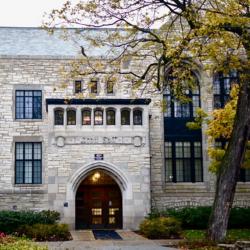 When: Tuesday, November 21, 2023
12:30 PM - 2:00 PM CT
Where: Scott Hall, Room 212, 601 University Place, Evanston, IL 60208 map it
Audience: Faculty/Staff - Student - Graduate Students
Contact: Ariel Sowers (847) 491-7454

Group: Department of Political Science
Category: Academic
Description:
Please join the Political Science Department's Graduate Program Overview as they host Stephen Monteiro, Business Administrator with Northwestern University's Political Science Department.
In this session, Stephen Monteiro will take a tour behind the scenes of common departmental administrative processes and showcase how and when university or college-wide policies inform procedures at the department level. We'll take a look at some big-picture activities, like the annual process for developing faculty hiring plans, as well as some nitty-gritty, like how do staff draft so many newsletters for different audiences. Along the way, hopefully we'll stumble upon some new resources, or at least provide some insight on where to find more info across Northwestern's websites (or at other colleges and universities). 
Along the way, we'll take a peek at
• Smartsheet, a project management tool used across the college
• Mailchimp, a tool for drafting and distributing newsletters
• Cascade and NUsites, tools for web development at Northwestern
• Provost and College resources on faculty recruitment and promotion lifecycle
• and more!