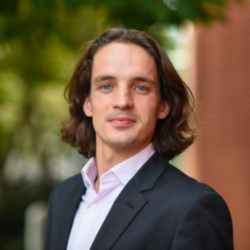 When: Friday, October 27, 2023
12:00 PM - 1:30 PM CT
Where: Scott Hall, 212, 601 University Place, Evanston, IL 60208 map it
Audience: Faculty/Staff - Graduate Students
Contact: Ariel Sowers (847) 491-7454

Group: Department of Political Science
Category: Academic
Description:
Please join the International Relations Speaker Series as they host Matej Jungwirth, Northwestern Political Science Ph.D. candidate.
Scholars consider territorial issues to be particularly salient and intractable causes of conflict initiation and recurrence. However, the variation in the recurrence of territorial conflicts is not well understood. While many states mobilize to challenge incurred territorial losses, others accept the new territorial status quo and move on peacefully. Still, others find themselves trapped in an in-between state – not fully accepting the suffered loss of land, yet not in a position to challenge it either. What explains these differences in state responses to the trauma of territorial loss? To connect territorial loss and future conflict recurrence, I propose a new concept of territorial mourning. Territorial mourning has two constitutive dimensions – the Capacity to Challenge and the Territorial Loss Salience. The first dimension measures the degree to which the defeated state can even challenge the loss of territory. The second dimension assesses the socio-emotive significance of the lost lands within the defeated society. I contend that the likelihood of territorial conflict recurrence is connected to the specific subtype of territorial mourning mediating the loss of territory. Using historical case studies, I illustrate the workings of the four different types of territorial mourning (cathartic, divisive, protracted and corrosive) in further detail. I conclude by discussing the utility of the concept of territorial mourning and by proposing further directions of research.
Matej is currently pursuing a PhD in Political Science at Northwestern University. In 2019, Matej obtained Master in Public Affairs degree from the School of Public International Affairs at Princeton University. Previously, he earned his B.A. from Beloit College, USA, in international relations and comparative literature. While completing his undergraduate degree, he studied in Amman, Jordan, at American University in Washington, D.C., and at the University of Cyprus. Matej's senior honors thesis explored the issues of political (mis)representation and agency of displaced Azeris and Palestinians. After graduation, he returned to the Czech Republic to work as a foreign policy adviser to Czech Senator Václav Láska and as a programme coordinator of the Ecology and Foreign Policy programs at the Prague office of the Heinrich Boell Foundation. He also worked as analyst at the STEM Institute. In the summer of 2018, Matej interned with Caucasus Resource Research Center – Armenia, an Armenian social survey research outfit, where he carried out data analysis, assisted with research design and drafted output reports.