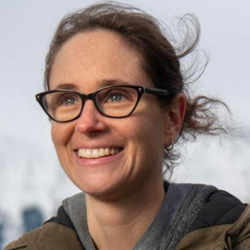 When: Friday, March 8, 2024
12:15 PM - 2:00 PM CT
Where: Scott Hall, 212, 601 University Place, Evanston, IL 60208 map it
Audience: Faculty/Staff
Contact: Ariel Sowers (847) 491-7454

Group: Department of Political Science
Category: Academic
Description:
Please join the "How I Wrote [Title Here]" Event Series and the International Relations Speaker Series as they host Kate J. Neville, assistant professor of political science at the University of Toronto.
A series of concurrent pressures in the early 2000s--climate change, financial system crashes, economic development in rural regions, and shifts in geopolitics--intensified interest in alternative energy production. At the same time, rising oil prices rendered alternative fuels a more economically viable option. Among these energy sources, liquid biofuels (bioethanol and biodiesel) and natural gas derived from hydraulic fracturing ("fracking") took center stage as promising commodities and technologies. But controversy quickly erupted in surprisingly similar ways around both renewable fuels. Global enthusiasm for these fuels--and the widespread projections for their production around the world--collided with local politics in debates over "food versus fuel" and concerns over "land grabs." What seemed, from a global perspective, like empty lands ripe for development were, to rural communities, vibrant and already contested spaces. As proposals for biofuels and fracking landed in specific communities and ecosystems, they reignited and reshaped old disputes over land, water, and decision-making authority.
Fueling Resistance offers an account of how and why controversies over these different fuels unfolded in surprisingly similar ways in the global North and South. To explain these convergent dynamics of contention and resistance, Kate J. Neville argues that the emergence of grievances and the patterns of resistance to new fuel technologies depends less on the type of energy developed (renewable versus fossil fuel) than on intersecting elements of the political economy of energy: finance, ownership, and trade relations. As local commodities enter global supply chains and are integrated into existing corporate structures, opportunities arise to broker connections between otherwise disparate communities.
In "How I Wrote [Title Here]" we invite scholars to campus to discuss how they turned a research project into a book. Each session features a writer and their recent book. Some are first-time authors, navigating the process from dissertation to publication. Others are well-established scholars with deep experience and diverse perspectives. We will talk about the choices the authors made in research, presentation, and marketing, and the choices that were made for them by circumstances, publishers, and reviewers. The series aims to share stories about the making of scholarly books.
Dr. Kate J Neville is cross-appointed between the Department of Political Science and the School of the Environment. Her research interests are in global environmental politics, with a focus on resource governance, global commodity markets, and contested water and energy projects. She holds a PhD in Political Science from the University of British Columbia, and a Master's in Environmental Science from Yale University. She is the author of Fueling Resistance: The Contentious Political Economy of Biofuels and Fracking (2021).