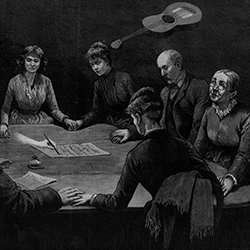 When: Wednesday, January 4, 2017
8:00 AM - 11:45 PM
Where: Deering Library, Third Floor, 1937 Sheridan Road, Evanston, IL 60208 map it
Audience: - Faculty/Staff - Student - Public - Post Docs/Docs - Graduate Students
Contact: Cory Slowik 847.491.7641

Group: University Libraries
Category: Fine Arts
Description:
Curated by Northwestern students.
How is sound—ephemeral by nature—registered in material objects? Traces of performance are recoverable across a variety of artifacts found in the distinctive collections of the Northwestern University Libraries. As an outgrowth of the graduate course "Music Historiography" offered in fall 2016, "Sounding the Archive" looks for the history of sound in off-center communities — from the occultism movement to labor union meetings— and for traces of musicking both here at Northwestern and nationally.
Though at first glance the objects displayed here may seem chaotically disparate, they are united by their status as potential raw material for the writing of music history. Each presents a challenge to scholars—inviting us to listen closely and recover the sounds of the past.