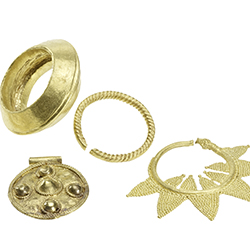 When: Tuesday, March 26, 2019
12:00 PM - 12:45 PM
Where: Block Museum of Art, Mary and Leigh, 40 Arts Circle Drive, Evanston, IL 60208 map it
Audience: Faculty/Staff - Student - Public - Post Docs/Docs - Graduate Students
Cost: Free and open to all
Contact: Block Museum of Art 847.491.4000

Group: Block Museum of Art
Category: Academic
Description:
Journey to a medieval world with Africa at its center.
Travel with the Block Museum along routes crossing the Sahara Desert to a time when West African gold fueled expansive trade and drove the movement of people, culture, and religious beliefs.
Take part in a walk-through of Caravans of Gold, Fragments in Time: Art, Culture, and Exchange across Medieval Saharan Africa led by a member of the curatorial or docent team and learn more about the creation of this groundbreaking exhibition. These free tours kick off in the museum lobby.
Caravans of Gold is the first major exhibition addressing the scope of Saharan trade and the shared history of West Africa, the Middle East, North Africa, and Europe from the eighth to sixteenth centuries. Weaving stories about interconnected histories, the exhibition showcases the objects and ideas that connected at the crossroads of the medieval Sahara and celebrates West Africa's historic and under-recognized global significance.
Presenting more than 250 artworks spanning five centuries and a vast geographic expanse, the exhibition features unprecedented loans from partner institutions in Mali, Morocco, and Nigeria, many of which will be seen in North America for the first time