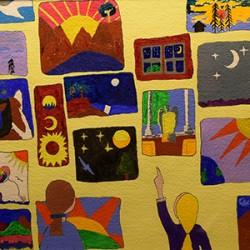 When: Wednesday, May 1, 2019
9:00 AM - 4:45 PM
Where: NUPOC, 680 North Lake Shore Drive; Suite 1100, 680 North Lake Shore Drive, Chicago, IL 60611
Audience: Faculty/Staff - Student - Public - Post Docs/Docs - Graduate Students
Cost: Free
Contact: R. J. Garrick, PhD 312.503.5700

Group: Northwestern University Prosthetics-Orthotics Program (NUPOC)
Category: Fine Arts
Description:
MK Czerwiec is the artist-in-residence at Northwestern University Feinberg School of Medicine. She is a nurse who uses drawing and comics to reflect on the complexities of illness and caregiving.
In nursing school Czerwiec started making art, despite the fact that she had no art education. Later, in the 1990s at the height of the AIDS crisis, she began working in a dedicated HIV/AIDS care hospital unit. Making art became her essential coping tool. Since then, her art has evolved in response to her experiences, moving from narrative paintings to comics and medical graphics that are her current focus.
The 5 pieces in this exhibit reflect that evolution, culminating with pages from Czerwiec's graphic memoir, Taking Turns in which her former patient helps her to explore the meaning in some of the recurring images and gestures found in her art: stars, seasons, nature, and reaching.
See more of Ms. Czerwiec's work in medical graphics at comicnurse.com.