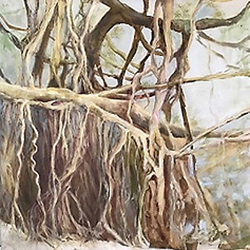 When: Tuesday, August 27, 2019
9:00 AM - 4:45 PM
Where: NUPOC; Suite 1100; 680 North Lake Shore Drive, NUPOC; Suite 1100, 680 North Lake Shore Drive, Chicago, IL 60611
Audience: Faculty/Staff - Student - Public - Post Docs/Docs - Graduate Students
Cost: No charge
Contact: R. J. Garrick, PhD 312.503.5700

Group: Northwestern University Prosthetics-Orthotics Program (NUPOC)
Category: Fine Arts
Description:
Speltz's visits to the Sungei Buloh Wetland Preserve in Singapore and to the Hoh Rain Forest in Olympic National Park, WA, inspired these 5 canvases. The works suggest processes of growth, dissolution and regeneration, offering an opportunity to pause and reflect on Nature's ceaseless cycle of life, death and rebirth. 
Among her paintings, Speltz depicts a colonnade of trees that germinated and took root in nurse logs, created when a forest tree falls, decays and provides a strata where seeds can germinate. After a nurse log has disintegrated, it will have nurtured the mature trees that grow along the path where it fell. The roots in Speltz's paintings represent a point of entry into a chthonic world that is both literal and mythic.
Prior to focusing on the visual language of painting, Speltz has a lifetime immersion in the language of books and verbal communication. She studies painting at the Palette and Chisel Academy of Fine Arts and lives in Chicago, IL.