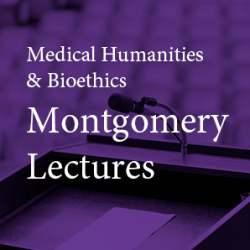 When: Thursday, August 27, 2020
12:00 PM - 12:45 PM Central
Where: Online
Cost: FREE – REGISTRATION REQUIRED
Contact: Myria Knox (312) 503-7962

Group: Medical Humanities & Bioethics Lunchtime Montgomery Lectures
Category: Academic, Lectures & Meetings, Grand Rounds
Description:
The Master of Arts in Medical Humanities & Bioethics presents
A Montgomery Lecture with
Sarah B. Rodriguez, PhD
Senior Lecturer, Global Health Studies
Lecturer, Medical Education
Core Faculty, MH&B Graduate Program
Covid-19 and the Lessons of History: What Lessons, Which History?
Given the parallels between our current pandemic and earlier ones–especially perhaps the influenza pandemic of 1918-1920–it is obvious some seek to find lessons from this earlier pandemic that are applicable to our current time. After first considering some of the parallels between the pandemic of a century ago and the one we are living in today, I will then consider the usefulness of the adage 'those who cannot remember the past are condemned to repeat it' as a lesson of history, and end by considering which history we should be remembering.
Read more about this series |  Sign up for lecture announcements
** PLEASE REGISTER TO RECEIVE THE ZOOM LINK: