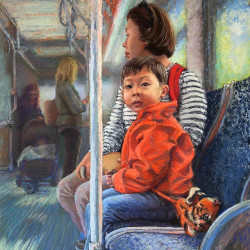 When: Wednesday, March 4, 2020
9:30 AM - 4:45 PM Central
Where: NUPOC, 680 North Lake Shore Drive, 1100, Chicago, IL 60611
Cost: Free
Contact: R. J. Garrick, PhD (312) 503-5700

Group: Northwestern University Prosthetics-Orthotics Program (NUPOC)
Category: Fine Arts
Description:
At NUPOC, science, technology and art intersect. In recognition of the artistry that is vital
to prosthetics and orthotics, NUPOC Gallery is delighted to announce the installation of Pause Play, 7 pastels by nationally recognized pastelist Evelyn Brody. 
Brody's works offer essential insight into human behavior in a public context. Each work engages the viewer as a participant in a momentary, fleeting human activity. She captures blink-of-the-eye, transient intervals in the daily lives of people in public spaces. 
A retired professor of law, Brody's work has been awarded the Pastel Society of America (PSA) Signature Status and Chicago Pastel Painters (CPP) Distinguished Signature Status. Brody serves as treasurer for the Chicago chapter of the Urban Sketchers; and is secretary and a board member of the Chicago Pastel Painters. She practices her art at the Palette & Chisel Academy of Fine Arts, the Old Town Art Center and at local and national workshops.