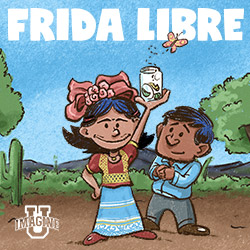 When: Saturday, October 21, 2023
2:00 PM - 3:30 PM CT
Where: Wirtz Center for the Performing Arts, Josephine Louis Theater, 1949 Campus Drive; 10-30 Arts Circle Drive, Evanston, IL 60208 map it
Cost: General Public $20
Children under 18 $12 NU Full-Time Students $8-12
*$8 in advance, $12 at the door
Contact: Wirtz Center (847) 491-7282

Group: Virginia Wadsworth Wirtz Center for the Performing Arts
Category: Fine Arts
Description:
Book and Lyrics by Karen Zacarías 
Music by Deborah Wicks La Puma 
Directed by Ismael Lara, Jr. 
Inspired by the childhood of legendary Mexican painter Frida Kahlo, Frida Libre is an uplifting story that explores the meaning of friendship, bravery, and transformation. Alex may seem like a quiet, shy boy, but he secretly holds big ideas inside his head. He wants to be a luchador (wrestler) and defeat bad guys in the ring. His life changes when he meets brave and colorful Frida, an unusual girl who dreams of being a doctor so she can help people. Forced to do a science project on butterflies and metamorphosis, the pair discovers how true friendship can help you overcome fear and transform your dreams into reality.