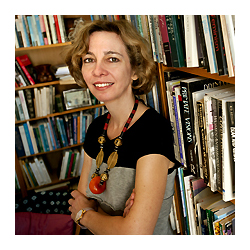 When: Wednesday, February 14, 2018
12:00 PM - 1:15 PM
Where: 620 Library Place, Room 106, Evanston, IL 60208 map it
Audience: Faculty/Staff - Student - Public - Post Docs/Docs - Graduate Students
Contact: Program of African Studies 847.491.7323

Group: Program of African Studies
Co-Sponsor(s):
Institute for the Study of Islamic Thought in Africa

Category: Lectures & Meetings
Description:
Cosponsored by the Institute for the Study of Islamic Thought in Africa (ISITA)
ISITA seminar: The Taste of Prayer: Making Sense of Sufi Devotional Practice in Niger
Adeline Masquelier, Anthropology, Tulane University
Abstract:
The salāt al-fātih (Arabic: 'prayer of the opener') is one of the sacred formulas members of the Tijāniyya Sufi order recite numerous times each day as part of the litanies they are enjoined to perform. Also known as the prayer on the Prophet, the salāt al-fātih has been the object of a bitter controversy between Tijānīs and reform-minded Muslims. In Niger members of the Society for the Removal of Innovation and Reinstatement of the Sunna reject salāt al-fātih as un-Islamic. Their Tijānī opponents insist it is a central element of Islamic worship: it purifies the heart while helping reciters reach closeness to God. In my talk I discuss a Tijānī adept's comparison of the recitation of salat al-fatih to the ingestion of delectable food and consider how pleasure provides a gateway to a heightened awareness of the divine. Through a focus on the delectability of prayer, I explore the role of sensual delight in Sufi spiritual interiority.
Bio:
Adeline Masquelier is Professor of Anthropology at Tulane University. Her research, based upon long-term field research in Dogondoutchi, Niger, focuses on spirit possession, reformist Islam, Bori religious practices, twinship, witchcraft, the pathology of consumption, medical anthropology, and gender. Masquelier's books include Women and Islamic Revival in a West African Town (Indiana University Press, 2009), winner of the 2010 Herskovits Award for best scholarly book on Africa; and Prayer Has Spoiled Everything: Possession, Power, and Identity in an Islamic Town in Niger (Duke University Press, 2001). She has contributed chapters to edited collections on veiling in Africa, African dress and fashion, African agency in the appropriation of global culture, and African divinities. She recently co-edited, with Benjamin Soares, Muslim Youth and the 9/11 Generation (University of New Mexico Press, 2013).