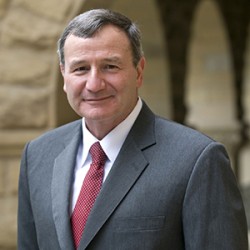 When: Tuesday, May 31, 2016
1:30 PM - 3:00 PM Central
Where: Scott Hall, Room 212, 601 University Place, Evanston, IL 60208 map it
Audience: Faculty/Staff - Student - Post Docs/Docs - Graduate Students
Contact: John Mocek 847.491.5364

Group: Buffett Institute for Global Affairs
Co-Sponsor: Department of Political Science

Category: Global & Civic Engagement
Description:
The United States has been at war in Afghanistan for more than 14 years, the longest overseas conflict in American history. While policy goals have been clear – the defeat of Al Qaeda and the establishment of an Afghan state accountable to its people and able to secure its territory – implementation has been problematic. Ambassador Karl Eikenberry, who served in Afghanistan as both a diplomat and a soldier over the course of three assignments, will discuss how efforts to formulate coherent strategies have been complicated by competing interests among US government entities, members of the coalition intervention force, Pakistan, and the Afghan government. He will also address implications for future American foreign policy.
Karl Eikenberry is the Oksenberg-Rohlen Distinguished Fellow and Director of the US-Asia Security Initiative at Stanford University's Asia-Pacific Research Center, and a Stanford University Professor of Practice. He served as the US Ambassador to Afghanistan from May 2009 until July 2011 and had a 35-year career in the United States Army, retiring with the rank of lieutenant general.
He is a graduate of the U.S. Military Academy, earned a master's degrees from Harvard University in East Asian studies and Stanford University in political science, was awarded an interpreter's certificate in Mandarin Chinese from the British Foreign and Commonwealth Office, and has an advanced degree in Chinese history from Nanjing University. He is also the recipient of the George F. Kennan Award for Distinguished Public Service and Harvard University Graduate School of Arts and Sciences Centennial Medal.
Ambassador Eikenberry is a fellow of the American Academy of Arts and Sciences, and is a board member of The Asia Foundation and council member of the International Institute for Strategic Studies. His articles and essays on US and international security issues have appeared in Foreign Affairs, Washington Quarterly, American Foreign Policy Interests, American Interest, The New York Times, Washington Post, Foreign Policy, and Financial Times.