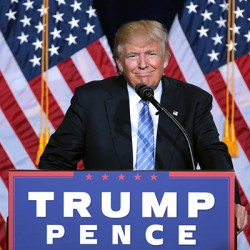 When: Thursday, January 5, 2017
4:00 PM - 6:00 PM Central
Where: Scott Hall, Guild Lounge, 601 University Place, Evanston, IL 60208 map it
Audience: Faculty/Staff - Student - Public - Post Docs/Docs - Graduate Students
Contact: Jeff Cernucan 847.467.2770

Group: Buffett Institute for Global Affairs
Co-Sponsor: Department of Political Science

Category: Global & Civic Engagement
Description:
Many people, including most pollsters and pundits, were surprised by the election of Donald J. Trump as the next president of the United States. The question of what comes next is hard to answer.
With few specifics to scrutinize and much uncertainty, we can't be sure what will happen in relation to China, the Middle East, and Latin America, or how the US will deal with important issues like global climate change, immigration, or human rights.

We will convene a panel of experts to discuss global issues awaiting the Trump administration, and whether and how campaign rhetoric might be translated into policy. Q&A to follow.
Panelists include:
• Paul Gillingham (History): US relations with Mexico, and "the wall"
• Ian Hurd (Political Science): International agreements and institutions
• William Hurst (Political Science): US relations with China
• Galya Ruffer (Political Science): Migration and refugees
• Wendy Pearlman (Political Science): US and the Middle East 
• Klaus Weber (Kellogg): Global climate change