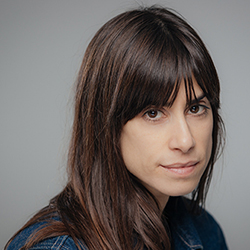 When: Monday, April 8, 2019
4:30 PM - 6:00 PM CT
Where: Kresge Hall, #1515 (Trienens Forum), 1880 Campus Drive, Evanston, IL 60208 map it
Audience: Faculty/Staff - Student - Public - Post Docs/Docs - Graduate Students
Cost: Free; public welcome
Contact: Jill Mannor (847) 467-3970

Group: Alice Kaplan Institute for the Humanities
Co-Sponsor: Block Museum of Art
Department of Art History
One Book One Northwestern

Category: Lectures & Meetings
Description:
SPRING 2019 KEYNOTE of THE SECURITY DIALOGUES
Facebook event: https://www.facebook.com/events/395773314531837/
Jill Magid will discuss projects related to security, intimacy, and access.
This talk is co-sponsored by Art History, Art Theory and Practice, and the Block Museum of Art as part of the 2018-19 SECURITY Dialogues, a year-long conversation about struggles over security from humanistic perspectives, presented by the Alice Kaplan Institute for the Humanities in partnership with multiple Northwestern departments and programs.
About Jill Magid: American artist Jill Magid's work is deeply ingrained in her lived experience, exploring and blurring the boundaries between art and life. Through her performance-based practice, Magid has initiated intimate relations with a number of organizations and structures of authority. She explores the emotional, philosophical and legal tensions between the individual and 'protective' institutions, such as intelligence agencies or the police. To work alongside or within large organizations, Magid makes use of institutional quirks, systemic loopholes that allow her to make contact with people 'on the inside'. Her work tends to be characterized by the dynamics of seduction, the resulting narratives often taking the form of a love story. It is typical of Magid's practice that she follows the rules of engagement with an institution to the letter – sometimes to the point of absurdity.
Solo exhibitions include Museo Universitario de Arte Contemporáneo, Mexico City; San Francisco Art Institute; Tate Modern, London; Whitney Museum of American Art, New York; Berkeley Museum of Art, California; Tate Liverpool; and the Security and Intelligence Agency of the Netherlands. She has participated in Manifesta, the Liverpool, Bucharest, Singapore, Incheon, Gothenburg, Oslo and Performa Biennials. Magid is the recipient of the 2017 Calder Prize. Her first feature film The Proposal (83 min, 2018) recently premiered at the Tribeca Film Festival.
Photo of Jill Magid by Paul McGeiver.