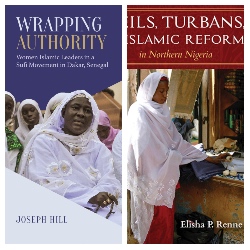 When: Monday, February 25, 2019
9:30 AM - 3:00 PM
Where: 620 Library Place, Evanston, IL 60208 map it
Audience: Faculty/Staff - Student - Public - Post Docs/Docs - Graduate Students
Contact: Rebecca Shereikis 847.491.2598

Group: Institute for the Study of Islamic Thought in Africa (ISITA)
Category: Academic
Description:
Join the Institute for the Study of Islamic Thought in Africa (ISITA) for a dialogue between the authors of two new books that discuss the role of gender, dress, and authority in reformist and Sufi Islamic movements in West Africa. Both authors will be present.
Discussants:
Katherine Hoffman, associate professor of anthropology, Northwestern University
Henri Lauzière, associate professor of history, Northwestern University
Wendell Hassan Marsh, Buffett post-doctoral fellow, Northwestern University
Joseph Hill (associate professor of anthropology, University of Alberta), author of Wrapping Authority: Women Islamic Leaders in a Sufi Movement in Dakar, Senegal  (University of Toronto Press, 2018). Hill's fieldwork in West Africa, especially Senegal and Mauritania, focuses primarily on Islam and how it is expressed in contemporary society, politics, and culture. Hill graduated from Brigham Young University with a B.A. in Honors Humanities and Anthropology and received his Ph.D. in Anthropology from Yale University. 
Elisha Renne (professor of anthropology and Afroamerican and African Studies, University of Michigan), author of Veils, Turbans, and Islamic Reform in Northern Nigeria (Indiana University Press, 2018). Renne's research focuses on issues relating to medical anthropology, gender relations, religion, and textiles in various regions of Nigeria. Renne earned a B.A. in Biology from New College and her Ph.D. in Anthropology from New York University. 
The ISITA Perspective Symposium Series brings leading scholars of Islam in Africa to Northwestern for discussion of their recent books. Each symposium features two authors and one or more discussants.