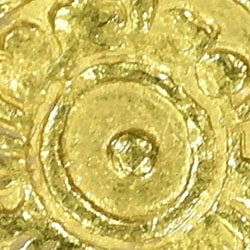 When: Friday, April 26, 2019
9:30 AM - 7:00 PM
Where: Block Museum of Art, Mary and Leigh, 40 Arts Circle Drive, Evanston, IL 60208 map it
Audience: Faculty/Staff - Student - Public - Post Docs/Docs - Graduate Students
Contact: Mary Clare Meyer 847.491.3230

Group: Department of Art History
Co-Sponsor(s):
Block Museum of Art

Category: Academic
Description:
Myers Symposium, April 26, 2019
Organized by Christina Normore and Kathleen Bickford Berzock

Trans-Saharan Exchange and the Global Medieval
Visual and Cultural Studies Research at the Crossroads of Disciplines and Regions

9:30am – Welcome
Panel 1 Crossroads: Art history and Archaeology
(10:00am – 12:30pm)
Suzanne Blier, Harvard University
"A Coptic Presence in the Medieval West Africa Trade? Evidence and Further Questions"

Abidemi Babatunde Babalola, University of Cambridge, UK
"Ile-Ife in the Medieval Exchange: On "the glass bead road" in Early West Africa"

Sam Nixon, British Museum, UK
"Dots on a map: investigating the nature of early trans-Saharan towns from Morocco to Mali"

Sarah Guérin, University of Pennsylvania
"Gold work: Techniques, Exchange, and Conscience between Art History and Archaeology"

Moderator: Marc Walton, Northwestern University

Panel 2 Crossroads: Islamic Studies and West African Studies
(2pm – 4:30pm)
Ulrike al-Khamis, Aga Khan Museum, Toronto, Canada
"Beyond the canon: Islamic art and Africa"
Michelle Apotsos, Williams College
"Spaces on the Edge: Rethinking West African Islamic Architecture Then and Now"
Abdallah Fili, Université d'El Jadida, Morocco
"Potentialités locales des villes marocaines médiévales au service du commerce transsaharien, l'exemple de Sijilmassa"

Mauro Nobili, University of Illinois
"The Southern Factor in the Development of the West African Tradition of Islamic Learning, c.1000-1500"

Moderator: Christina Normore, Northwestern University

Keynote (5:30pm):
Susan McIntosh, Rice University
Moderator: Kathleen Bickford Berzock, The Block Museum of Art
This event is generously supported by the Myers Foundations and the Department of Art History at Northwestern University
More information regarding the symposium Trans-Saharan Exchange and the Global Medieval, Visual and Cultural Studies Research at the Crossroads of Disciplines and Regions is available here.
Register here for events from 9:30 am to 4:30 pm.
Register here for keynote speaker at 5:30 pm.
Image: Dinar of al-Mustans ïr Billaˉh (r. 1036–1094 ce), issued AH 461, struck at Mis ̇r (Cairo). Gold, diameter 22 mm. Bank al-Maghrib, Rabat, Morocco, 521508. Photograph by Fouad Mahdaoui.