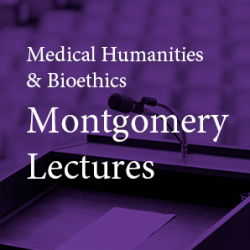 When: Thursday, January 6, 2022
12:00 PM - 12:45 PM Central
Where: Online
Audience: Faculty/Staff - Student - Public - Post Docs/Docs - Graduate Students
Cost: FREE - MUST REGISTER
Contact: Myria Knox (312) 503-7962

Group: Medical Humanities & Bioethics Lunchtime Montgomery Lectures
Category: Academic, Lectures & Meetings
Description:
The Master of Arts in Medical Humanities & Bioethics Program
Presents
A Montgomery Lecture
With

Laura Kolbe, MD, MPhil
Assistant Professor of Medicine
Assistant Clinical Ethicist
Weill Cornell Medical College
Author of Little Pharma

Incendiary Documentation: Poetry as Reclamation and Joyful Provocation

Reams of linguistic production litter our lives as clinicians, patients, or other participants in healthcare. What do our conventional modes of documenting illness, or certifying professional competence in healthcare, leave unspoken, and how do those omissions impoverish our sense of what sickness and care consist of? What do we censor as "improper" for the written record? How can we reclaim these lost realms of affect and experience? Laura Kolbe will read from her new poetry collection Little Pharma and discuss collisions between art-making and the practice of care, focusing on the productive tension between the ways we use language as clinicians, as poets, as ethicists, and in other shifting roles.
** PLEASE REGISTER TO RECEIVE THE ZOOM LINK**
CLICK HERE TO REGISTER
Read more about this series  |  Sign up for lecture announcements