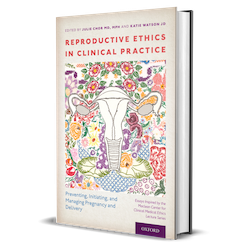 When: Thursday, November 4, 2021
12:00 PM - 12:45 PM Central
Where: Online
Cost: FREE - MUST REGISTER
Contact: Myria Knox (312) 503-7962

Group: Medical Humanities & Bioethics Lunchtime Montgomery Lectures
Category: Academic, Lectures & Meetings
Description:
The Master of Arts in Medical Humanities & Bioethics Program 
Presents
A Montgomery Lecture
Confidentiality and Disclosure in Reproductive Healthcare
This session will feature two separate but thematically-linked talks. The speakers will present work from the new book Reproductive Ethics in Clinical Practice, edited by Julie Chor and Katie Watson.
·      Adolescent Confidentiality in Reproductive Healthcare
This talk will discuss public health, legal, and ethical frameworks underpinning adolescent confidentiality in reproductive healthcare.
Julie Chor, MD, MPH
Associate Professor of Obstetrics and Gynecology in the 
Section of Complex Family Planning
Assistant Director, MacLean Center for Clinical Medical Ethics
University of Chicago
·      Challenges to Reproductive Autonomy in Catholic Facilities
One in six U.S. patients is treated in a Catholic hospital where reproductive care is constrained by religious directives. We discuss the ethical implications of constraining care in this way and describe the findings of our research with patients and providers.
Lori Freedman, PhD
Associate Professor
Greenwall Faculty Scholar
University of California, San Francisco
Debra Stulberg, MD 
Associate Professor
Chair of Family Medicine
University of Chicago
** PLEASE REGISTER TO RECEIVE THE ZOOM LINK**
REGISTER HERE
Read more about this series  |  Sign up for lecture announcements