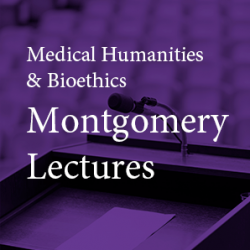 When: Thursday, March 3, 2022
12:00 PM - 12:45 PM Central
Where: Online
Cost: FREE - MUST REGISTER
Contact: Myria Knox (312) 503-7962

Group: Medical Humanities & Bioethics Lunchtime Montgomery Lectures
Category: Academic, Lectures & Meetings
Description:
The Master of Arts in Medical Humanities & Bioethics Program
Presents
A Montgomery Lecture
With
David T. Ozar, PhD
Emeritus Professor, Department of Philosophy
Loyola University Chicago
Member and Consulting Ethicist, Institutional Ethics Committee
NorthShore University Health System
Chair, Steering Committee of the Unrepresented Patients Project for Illinois (UPPI) 
The Unrepresented Patients Project for Illinois
Most hospitals care for patients who are non-decisional, have no Advance Directives to guide their care, and have no one to serve as their surrogate decision-maker.  In some of the literature, these patients are referred to as "Unbefriended," but the more common term now is "Unrepresented." When important medical decisions need to be made for Unrepresented Patients, in Illinois, as in most states, only one legally authorized way exists to resolve the situation; namely, that a judge appoint a guardian ad litem for the Unrepresented Patient.  This solution is usually inadequate both practically and ethically and the Unrepresented Patients Project for Illinois is an effort by a group of clinical ethicists, physicians, nurses, social workers, lawyers, and others to address these issues. There are three sets of ethical and practical issues in the care of Unrepresented Patients that Professor Ozar will to describe.  The first concerns the impact of the legal mechanisms on the timing of important medical decisions.  The second concerns consistency and continuity in caring for the patient. The third is the subtler issue of how Best Interest Judgments for such patients can be made less arbitrary.
**PLEASE REGISTER TO RECEIVE THE ZOOM LINK**
CLICK HERE TO REGISTER
Read more about this series | Sign up for lecture announcements