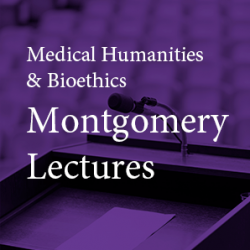 When: Thursday, January 27, 2022
12:00 PM - 12:45 PM CT
Where: Online
Cost: FREE - MUST REGISTER
Contact: Myria Knox (312) 503-7962

Group: Medical Humanities & Bioethics Lunchtime Montgomery Lectures
Category: Academic, Lectures & Meetings
Description:
The Master of Arts in Medical Humanities & Bioethics Program
Presents
A Montgomery Lecture
With
Catherine Belling, PhD
Associate Professor, Medical Education
Faculty, Medical Humanities & Bioethics Graduate Program
Member, Center for Bioethics and Medical Humanities
Northwestern University Feinberg School of Medicine
Drowning: The Limits of Rescue and the
Ethics of Failure
In this lecture, we will think about drowning, both literally and metaphorically. Taking as starting point the very specific clinical and ethical challenges posed by the care of traumatized displaced migrant populations, Professor Belling will draw on the representation of drowning or near-drowning as trauma in several recent films about people attempting to migrate by sea from Africa to Europe (and about those who aspire to help them): Fire at Sea (dir. Rose, 2016), Atlantique (Diop, 2019), His House (Weekes, 2020), and Styx (Fischer, 2018). We will then explore the metaphorical significance of drowning, both within these films and in their resonance for health care, as a way to reimagine what it means to be overwhelmed. Who drowns? Who lets another drown rather than rescue them? How might these films' storytelling "open up new routes," as Lisa Diedrich puts it in her work on an ethics of failure, when doctors and patients "risk failure, risk relation"? 
** PLEASE REGISTER TO RECEIVE THE ZOOM LINK**
CLICK HERE TO REGISTER
Read more about this series  |  Sign up for lecture announcements