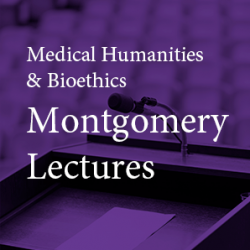 When: Thursday, February 10, 2022
12:00 PM - 12:45 PM Central
Where: Online
Audience: Faculty/Staff - Student - Public - Post Docs/Docs - Graduate Students
Cost: FREE - MUST REGISTER
Contact: Myria Knox (312) 503-7962

Group: Medical Humanities & Bioethics Lunchtime Montgomery Lectures
Category: Academic, Lectures & Meetings
Description:
The Master of Arts in Medical Humanities & Bioethics Program
Presents
A Montgomery Lecture
With
Katherine Wasson, PhD, MPH, HEC-C
Associate Professor
Neiswanger Institute for Bioethics and
Stritch School of Medicine
Loyola University Chicago
The Myth of Rugged American Individualism and
How It's Harming All of Us
The version of rugged American individualism we learned in school is a myth. People have always relied on one another for help at different times and in different ways. We need others not only to survive but to flourish. Dispelling this myth is more important than ever in the midst of the Coronavirus pandemic where rugged individualism and claims of autonomy sometimes seem untethered from a recognition of responsibilities.  Professor Wasson will examine harms stemming from this myth and potential ways to address.
** PLEASE REGISTER TO RECEIVE THE ZOOM LINK**
CLICK HERE TO REGISTER
Read more about this series | Sign up for lecture announcements