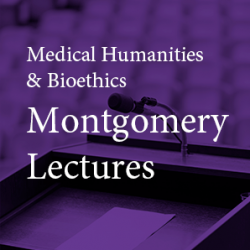 When: Thursday, March 10, 2022
12:00 PM - 12:45 PM Central
Where: Online
Audience: Faculty/Staff - Student - Public - Post Docs/Docs - Graduate Students
Cost: FREE - MUST REGISTER
Contact: Myria Knox (312) 503-7962

Group: Medical Humanities & Bioethics Lunchtime Montgomery Lectures
Category: Academic, Lectures & Meetings
Description:
The Master of Arts in Medical Humanities & Bioethics Program
Presents
A Montgomery Lecture
With
Sydney A. Halpern, PhD
Professor Emerita, University of Illinois at Chicago 
Lecturer, Medical Humanities & Bioethics Program
Northwestern University Feinberg School of Medicine
Susan Reverby, PhD
Marion Butler McLean Professor Emerita in the History of Ideas
Professor Emerita of Women's and Gender Studies
Wellesley College
Wellesley, Massachusetts
Moral Dilemmas of the Medical Historian
We have become accustomed to hearing about troubling human experiments from biomedicine's past. When writing about these episodes, historians seek to explain how and why now-repudiated experiments took place and to clarify normative contexts very different than our own. Yet myriad issues arise in how an author depicts investigators, their supporters, and actors' justifications. Here Sydney Halpern discusses moral dilemmas she faced when writing about a thirty-year, U.S. government-sponsored program in which scientists deliberately infected people with hepatitis. She discusses backstories and themes of her book Dangerous Medicine: The Story behind Human Experiments with Hepatitis (Yale University Press, November 2021). And Susan Reverby provides illuminating commentary.
**PLEASE REGISTER TO RECEIVE THE ZOOM LINK**
REGISTER HERE
Read more about this series | Sign up for lecture announcements