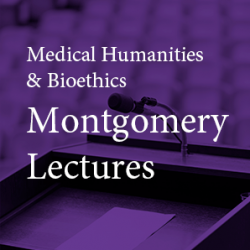 When: Thursday, March 31, 2022
12:00 PM - 12:45 PM CT
Where: Robert H Lurie Medical Research Center, 1st floor-Searle room, 303 E. Superior, Chicago, IL 60611 map it
Audience: Faculty/Staff - Student - Public - Post Docs/Docs - Graduate Students
Cost: FREE - MUST REGISTER IF ATTENDING VIA ZOOM
Contact: Myria Knox (312) 503-7962

Group: Medical Humanities & Bioethics Lunchtime Montgomery Lectures
Category: Academic, Lectures & Meetings
Description:
The Master of Arts in Medical Humanities & Bioethics Program
Presents
A Montgomery Lecture
With
Elizabeth Bleed, MD, MA
Fellow, Pediatric Critical Care 
McGaw Medical Center, Northwestern University
Division of Critical Care, Lurie Children's Hospital Chicago
How to Train your Zebra:
Transparency, Uncertainty, and Diagnostic Error

A disease with fewer than 200,000 cases is defined as "rare" in the US, but given the nearly 7,000 rare diseases, the total number of people in the US affected by a rare disease reaches 25-30 million; many of them experience a harmful misdiagnosis or delay in diagnosis. As medicine grows in complexity, it is not possible for any one physician to have even heard of all of these rare conditions, much less diagnose them. Concurrently, diagnostic error has become a target for quality improvement and research with a growing body of literature, but the field almost never mentions rare diseases. How do we reconcile this? I present Howard Brody's "Transparency Standard" (originally used for informed consent) as a tool to use transparency to manage uncertainty and the possibility of rare outcomes. 
This lecture will be held in person for Northwestern students, faculty, and staff—in the Searle Seminar Room in the Lurie Research Building (303 E Superior). Chicago Campus. For those outside the Northwestern community and anyone who would prefer to attend remotely, the Zoom option will continue to be available.
**PLEASE REGISTER TO RECEIVE THE ZOOM LINK**
REGISTER HERE
Read more about this series | Sign up for lecture announcements