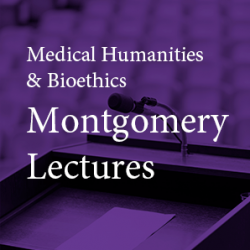 When: Thursday, April 7, 2022
12:00 PM - 12:45 PM Central
Where: Robert H Lurie Medical Research Center, 1st floor-Searle room, 303 E. Superior, Chicago, IL 60611 map it
Audience: Faculty/Staff - Student - Public - Post Docs/Docs - Graduate Students
Cost: FREE - MUST REGISTER IF ATTENDING VIA ZOOM
Contact: Myria Knox (312) 503-7962

Group: Medical Humanities & Bioethics Lunchtime Montgomery Lectures
Category: Academic, Lectures & Meetings
Description:
The Master of Arts in Medical Humanities & Bioethics Program
Presents
A Montgomery Lecture
With
Katie Watson, JD
Associate Professor of Medical Social Sciences, Medical Education, 
and Obstetrics & Gynecology
Faculty, Medical Humanities & Bioethics Graduate Program
Member, Center for Bioethics and Medical Humanities
Northwestern University Feinberg School of Medicine
Gallows Humor in Medicine
Pain sometimes generates laughter instead of tears. When does humor between healthcare professionals help patient care or trainee learning, and when does it hurt? What's the difference between gallows humor and bullying or ridicule? In this multidisciplinary presentation, Professor Watson will contextualize medicine's backstage storytelling through the lens of the medical humanities, then analyze the ethics of using gallows humor as a coping mechanism in difficult situations.

This lecture will be held in person for Northwestern students, faculty, and staff—in the Searle Seminar Room in the Lurie Research Building (303 E Superior). Chicago Campus. For those outside the Northwestern community and anyone who would prefer to attend remotely, the Zoom option will continue to be available.
**PLEASE REGISTER TO RECEIVE THE ZOOM LINK**
REGISTER HERE
Read more about this series | Sign up for lecture announcements