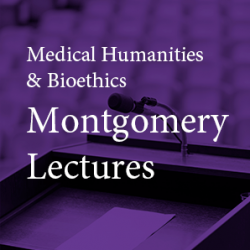 When: Thursday, September 29, 2022
12:00 PM - 12:45 PM CT
Where: Robert H Lurie Medical Research Center, 1st floor - Searle room, 303 E. Superior, Chicago, IL 60611 map it
Audience: Faculty/Staff - Student - Public - Post Docs/Docs - Graduate Students
Cost: FREE - MUST REGISTER TO ATTEND VIA ZOOM
Contact: Myria Knox (312) 503-7962

Group: Medical Humanities & Bioethics Lunchtime Montgomery Lectures
Category: Academic, Lectures & Meetings
Description:
The Master of Arts in Medical Humanities & Bioethics Program
Presents
A Montgomery Lecture:
Flash(y) Bioethics:
Five-Minute Takes on Five Topics
Come join us for a fun introduction to our faculty and our field! Our MA students will come up with 5 topics for us explore in a pithy 5 minutes or less, providing a sampling of the diversity of issues engaged by the medical humanities and bioethics, and the breadth of the disciplinary approaches we bring to them. Here's a preview of who will be there—and here are the topics to be explored.
Catherine Belling (Literature) ABSOLUTE 
Katie Watson (Law) CONSCIENCE 
Megan Crowley-Matoka (Anthropology) GUILT
Sarah Rodriguez (History) MEMORIES 
Tod Chambers (Religion) HUMOR 
This lecture will be held in person for Northwestern students, faculty, and staff—in the Searle Seminar Room in the Lurie Research Building (303 E Superior). Chicago Campus. For those outside the Northwestern community and anyone who would prefer to attend remotely, the Zoom option will continue to be available.
** PLEASE REGISTER TO RECEIVE THE ZOOM LINK**
REGISTER HERE
Read more about this series | Sign up for lecture announcements