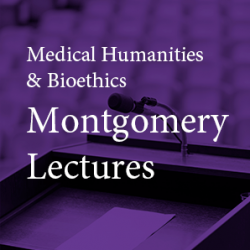 When: Thursday, October 20, 2022
12:00 PM - 12:45 PM CT
Where: Robert H Lurie Medical Research Center, 1st floor - Searle room, 303 E. Superior, Chicago, IL 60611 map it
Cost: FREE - MUST REGISTER TO ATTEND VIA ZOOM
Contact: Myria Knox (312) 503-7962

Group: Medical Humanities & Bioethics Lunchtime Montgomery Lectures
Category: Academic, Lectures & Meetings
Description:
The Master of Arts in Medical Humanities & Bioethics Program
Presents
A Montgomery Lecture
With
Jeremy A. Greene, MD, PhD
William H. Welch Professor of Medicine and the History of Medicine
Johns Hopkins University in Baltimore.
Author, The Doctor Who Wasn't There: Technology, History, and the Limits of Telehealth (University of Chicago, 2022)
The Doctor Who Wasn't There:
Technology, History, and the Limits of Telehealth

The Doctor Who Wasn't There, published this month by the University of Chicago Press, traces the long arc of enthusiasm for—and skepticism of—electronic media in health and medicine. Over the past century, a series of new technologies promised to democratize access to healthcare. From the humble telephone to the connected smartphone, from FM radio to wireless wearables, from cable television to the "electronic brains" of networked mainframe computers: each new platform has promised a radical reformation of the healthcare landscape. With equal attention to the history of technology, the history of medicine, and the politics and economies of American healthcare, physician and historian, Dr. Greene, explores the role that electronic media play, for better and for worse, in the past, present, and future of our health.
This lecture will be held in person for Northwestern students, faculty, and staff—in the Searle Seminar Room in the Lurie Research Building (303 E Superior). Chicago Campus. For those outside the Northwestern community and anyone who would prefer to attend remotely, the Zoom option will continue to be available.
** PLEASE REGISTER TO RECEIVE THE ZOOM LINK**
click here to REGISTER
Read more about this series | Sign up for lecture announcements