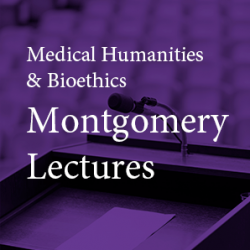 When: Thursday, October 13, 2022
12:00 PM - 12:45 PM CT
Where: Robert H Lurie Medical Research Center, 1st floor - Searle room, 303 E. Superior, Chicago, IL 60611 map it
Audience: Faculty/Staff - Student - Public - Post Docs/Docs - Graduate Students
Cost: FREE - MUST REGISTER TO ATTEND VIA ZOOM
Contact: Myria Knox (312) 503-7962

Group: Medical Humanities & Bioethics Lunchtime Montgomery Lectures
Category: Academic, Lectures & Meetings
Description:
The Master of Arts in Medical Humanities & Bioethics Program
Presents
A Montgomery Lecture
With
Rebecca Seligman, PhD
Associate Professor, Anthropology and Global Health
Associate Chair, Department of Anthropology
Faculty Fellow, Institute for Policy Research
Northwestern University
From Sensations to Symptoms:
The Social Shaping of Functional Illness Experience
Functional Neurological Disorder (FND), otherwise known as Conversion Disorder and once known as hysteria, is characterized by abnormal sensory or motor symptoms that are determined to be "incompatible" with neurological disease. FND patients are a challenge for contemporary medicine. They experience high levels of distress, disability, and social isolation, yet a large proportion of those treated do not get better. Patients with FNDs are often misdiagnosed and suffer from stigma, dysfunctional medical encounters and scarcity of adequate treatments. I argue that medicine's struggle with FNDs is itself a symptom of a biomedical ontology that constrains the medical imagination, impedes understanding of mind-body processes and constrains what is understood to be possible, real, and treatable.  In this talk, I use a cross-culturally and historically situated comparative approach in order to propose a framework for better understanding mind-body processes.  In particular, I examine the work of 2 main, interconnected factors: 1) cultural expectancies that shape the meanings of sensations and the process through which symptoms come into being; and 2) the social scaffolding of such expectancies and exposures.  I draw on ongoing research with people living with FND to suggest ways in which to integrate such understandings into clinical care.
This lecture will be held in person for Northwestern students, faculty, and staff—in the Searle Seminar Room in the Lurie Research Building (303 E Superior). Chicago Campus. For those outside the Northwestern community and anyone who would prefer to attend remotely, the Zoom option will continue to be available.
** PLEASE REGISTER TO RECEIVE THE ZOOM LINK**
click here to REGISTER
Read more about this series | Sign up for lecture announcements