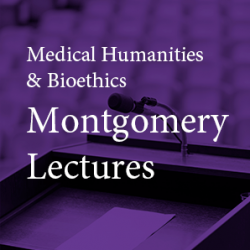 When: Thursday, November 10, 2022
12:00 PM - 12:45 PM CT
Where: Robert H Lurie Medical Research Center, 1st floor - Searle room, 303 E. Superior, Chicago, IL 60611 map it
Audience: Faculty/Staff - Student - Public - Post Docs/Docs - Graduate Students
Cost: FREE - MUST REGISTER TO ATTEND VIA ZOOM
Contact: Myria Knox (312) 503-7962

Group: Medical Humanities & Bioethics Lunchtime Montgomery Lectures
Category: Academic, Lectures & Meetings
Description:
The Master of Arts in Medical Humanities & Bioethics Program
Presents
A Montgomery Lecture
With
Alicia "Lish" Aiken, Attorney
Principal at Danu Center for Strategic Advocacy
Director of Danu Center's Confidentiality Institute
Chicago, Illinois
Confidentiality, Domestic Violence Survivors, and Healthcare
Professionals are taught to tell people, "It's confidential." But what does that really mean?
*How much do domestic violence survivors understand about who will have access to their healthcare information?
*How much do providers understand?
*Are there ways in which the sharing and accessibility of healthcare records may harm domestic violence survivors or deter them from seeking care?
*How do we balance individual needs to control personal health information with institutional needs to manage and improve the delivery of care?
These are thorny, complicated questions, and they don't always have a "right" answer. Join us for a nuanced conversation about the intersection of privacy law, healthcare best practices, and domestic violence survivor risk management.
This lecture will be held in person for Northwestern students, faculty, and staff—in the Searle Seminar Room in the Lurie Research Building (303 E Superior). Chicago Campus. For those outside the Northwestern community and anyone who would prefer to attend remotely, the Zoom option will continue to be available.
** PLEASE REGISTER TO RECEIVE THE ZOOM LINK**
REGISTER HERE
Read more about this series | Sign up for lecture announcements