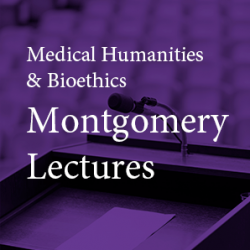 When: Thursday, November 17, 2022
12:00 PM - 12:45 PM CT
Where: Robert H Lurie Medical Research Center, 1st floor - Searle room, 303 E. Superior, Chicago, IL 60611 map it
Audience: Faculty/Staff - Student - Public - Post Docs/Docs - Graduate Students
Cost: FREE - MUST REGISTER TO ATTEND VIA ZOOM
Contact: Myria Knox (312) 503-7962

Group: Medical Humanities & Bioethics Lunchtime Montgomery Lectures
Category: Academic, Lectures & Meetings
Description:
The Master of Arts in Medical Humanities & Bioethics Program
Presents
A Montgomery Lecture
With
Sharrona Pearl, PhD
Associate Professor of Bioethics and History
Drexel University
Philadelphia, Pennsylvania
The Mask: Concealing and Revealing
This talk seeks to uncover.  To expose.  To lay bare.  This talk will take the mask itself–an object designed to conceal, to protect, to create barriers and boundaries–and see what lies within. Using a broad historical lens, this talk will explore the history of masking, asking various sites and domains of practice to show its consistent use as a means of protection and division. The mask will show who, in a given context, is worthy of protection, and who is not.  The talk will focus in particular on masking as a means of protecting: identities from detection; bodies from injury; emotion from clear expression; the health of the wearers and the health of those around them; and the souls and spirits of those engaged in religious ritual. The talk will discuss contemporary masking from the anti-mask laws of the nineteenth century through the pandemic, looking in particular at the tensions between exposure and concealment, both of which are perceived as mechanisms of safety. Talk will conclude with a discussion of racism in masking practices, arguing that for Black men in the US, structural racism was behind attempts to criminalize their masking, even when it was legally required due to public health ordinances.  What does masking mean for bodies that were always already wrong?
This lecture will be held in person for Northwestern students, faculty, and staff—in the Searle Seminar Room in the Lurie Research Building (303 E Superior). Chicago Campus. For those outside the Northwestern community and anyone who would prefer to attend remotely, the Zoom option will continue to be available.
** PLEASE REGISTER TO RECEIVE THE ZOOM LINK**
REGISTER HERE
Read more about this series | Sign up for lecture announcements