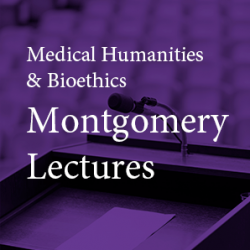 When: Thursday, December 1, 2022
12:00 PM - 12:45 PM CT
Where: Robert H Lurie Medical Research Center, 1st floor - Searle room, 303 E. Superior, Chicago, IL 60611 map it
Audience: Faculty/Staff - Student - Public - Post Docs/Docs - Graduate Students
Cost: FREE - MUST REGISTER TO ATTEND VIA ZOOM
Contact: Myria Knox (312) 503-7962

Group: Medical Humanities & Bioethics Lunchtime Montgomery Lectures
Category: Academic, Lectures & Meetings
Description:
The Master of Arts in Medical Humanities & Bioethics Program
Presents
A Montgomery Lecture
With
Lily Stewart, PhD
Visiting Assistant Professor of Religious Studies and English 
Northwestern University
Adjunct Professor in the Honors Humanities Program
Loyola University Chicago
Memory, Transformation, and the Communal Leprous Body in 
Premodern Christian Thought
This lecture will examine how medieval people with leprosy imagined the processes by which their bodies and identities transformed. Leprosy was a degenerative condition that often carried a long prognosis and significant changes in mobility, appearance, and social positioning. We will explore how people with the disease were often caught between the memories of their former, healthy identities, and the realities of their ailing presents. At the same time, we will consider how memory was used to craft communities of care around and among leprous people that centered on the inherent mutability of human flesh, and the potential of all bodies to become leprous. 
This lecture will be held in person for Northwestern students, faculty, and staff—in the Searle Seminar Room in the Lurie Research Building (303 E Superior). Chicago Campus. For those outside the Northwestern community and anyone who would prefer to attend remotely, the Zoom option will continue to be available.
** PLEASE REGISTER TO RECEIVE THE ZOOM LINK**
REGISTER HERE
Read more about this series | Sign up for lecture announcements