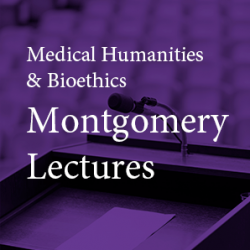 When: Thursday, January 5, 2023
12:00 PM - 12:45 PM CT
Where: Robert H Lurie Medical Research Center, 1st floor - Searle room, 303 E. Superior, Chicago, IL 60611 map it
Audience: Faculty/Staff - Student - Public - Post Docs/Docs - Graduate Students
Cost: FREE - MUST REGISTER TO ATTEND VIA ZOOM
Contact: Myria Knox (312) 503-7962

Group: Medical Humanities & Bioethics Lunchtime Montgomery Lectures
Category: Academic, Lectures & Meetings
Description:
The Master of Arts in Medical Humanities & Bioethics Program
Presents
A Montgomery Lecture
With
Jay Baruch, MD 
Professor of Emergency Medicine
Alpert Medical School at Brown University
Director, Medical Humanities and Bioethics Scholarly Concentration
Stories as Unchartered Territories: Constraints and Creativity
Medicine prides itself on being an evidence-based practice, but emergency medicine, and medicine in general, is the practice of understanding and responding to patients' complex, messy, and vulnerable stories. But the reductive focus of medicine, and the many constraints facing healthcare providers, make this task difficult. In this presentation, Dr. Baruch will discuss moments in his work as an ER physician when there wasn't any map to help guide into another human's experience and how he leaned on his creative writing and narrative skills. And how writing, in turn, enabled him to work through these little earthquakes we face silently every day—including uncomfortable emotions, moral dilemmas, and limits to our compassion.
This lecture will be held in person for Northwestern students, faculty, and staff—in the Searle Seminar Room in the Lurie Research Building (303 E Superior). Chicago Campus. For those outside the Northwestern community and anyone who would prefer to attend remotely, the Zoom option will continue to be available.
** PLEASE REGISTER TO RECEIVE THE ZOOM LINK**
CLICK HERE TO REGISTER
Read more about this series | Sign up for lecture announcements