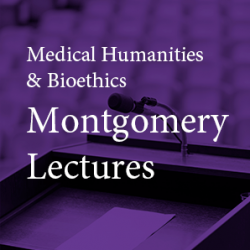 When: Thursday, January 26, 2023
12:00 PM - 12:45 PM CT
Where: Robert H Lurie Medical Research Center, 1st floor - Searle room, 303 E. Superior, Chicago, IL 60611 map it
Audience: Faculty/Staff - Student - Public - Post Docs/Docs - Graduate Students
Cost: FREE - MUST REGISTER TO ATTEND VIA ZOOM
Contact: Myria Knox (312) 503-7962

Group: Medical Humanities & Bioethics Lunchtime Montgomery Lectures
Category: Academic, Lectures & Meetings
Description:
The Master of Arts in Medical Humanities & Bioethics Program
Presents
A Montgomery Lecture
With
Catherine Belling, PhD
Associate Professor of Medical Education
Center for Bioethics & Medical Humanities
Northwestern University Feinberg School of Medicine
Pain, Referred and Adapted
Physical pain, as a subjective experience, is notoriously difficult for the sufferer (e.g. patient) to convey to others, or for an observing other (e.g. clinician) to fully apprehend. As an often overwhelming and isolating experience, pain also generates endless creative efforts—from pain scales to paintings to poetry—to communicate it better. This lecture explores these efforts by considering two specific examples of pain represented through the interiority of narrative texts and what happens to the pain when those two texts are adapted to the external perspective of film.
This lecture will be held in-person for Northwestern students, faculty, and staff—in the Searle Seminar Room in the Lurie Research Building (303 E Superior). Chicago Campus. For those outside the Northwestern community and anyone who would prefer to attend remotely, the Zoom option will continue to be available.
** PLEASE REGISTER TO RECEIVE THE ZOOM LINK**
CLICK HERE TO REGISTER
Read more about this series | Sign up for lecture announcements