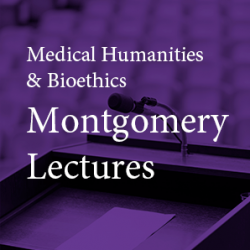 When: Thursday, February 2, 2023
12:00 PM - 12:45 PM CT
Where: Robert H Lurie Medical Research Center, 1st floor - Searle room, 303 E. Superior, Chicago, IL 60611 map it
Audience: Faculty/Staff - Student - Public - Post Docs/Docs - Graduate Students
Cost: FREE - MUST REGISTER TO ATTEND VIA ZOOM
Contact: Myria Knox (312) 503-7962

Group: Medical Humanities & Bioethics Lunchtime Montgomery Lectures
Category: Academic, Lectures & Meetings
Description:
The Master of Arts in Medical Humanities & Bioethics Program
Presents
A Montgomery Lecture
With
Dario Robleto
Artist-at-Large
Northwestern University
McCormick School of Engineering and Applied Science

The Heart's Knowledge Will Never Decay
For American artist Dario Robleto, artists and scientists share a common aspiration: to increase the sensitivity of their observations. Throughout the history of scientific invention, instruments like the cardiograph and the telescope have extended the reach of perception from the tiniest stirrings of the human body to the farthest reaches of space. In his prints, sculptures, and film installations, Robleto contemplates the emotional significance of these technologies, bringing us closer to the latent traces of life buried in the scientific record. In this lecture, Robleto will preview his upcoming exhibition at the Block Museum of Art, The Heart's Knowledge: Science and Empathy in the Art of Dario Robleto. The exhibition marks the culmination of Robleto's five-year engagement as Artist-at-Large in Northwestern University's McCormick School of Engineering and Applied Science.
This lecture will be held in-person for Northwestern students, faculty, and staff—in the Searle Seminar Room in the Lurie Research Building (303 E Superior). Chicago Campus. For those outside the Northwestern community and anyone who would prefer to attend remotely, the Zoom option will continue to be available.
** PLEASE REGISTER TO RECEIVE THE ZOOM LINK**
CLICK HERE TO REGISTER
Read more about this series | Sign up for lecture announcements