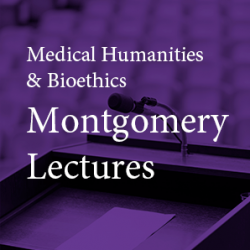 When: Thursday, February 9, 2023
12:00 PM - 12:45 PM CT
Where: Robert H Lurie Medical Research Center, 1st floor - Searle room, 303 E. Superior, Chicago, IL 60611 map it
Audience: Faculty/Staff - Student - Public - Post Docs/Docs - Graduate Students
Cost: FREE - MUST REGISTER TO ATTEND VIA ZOOM
Contact: Myria Knox (312) 503-7962

Group: Medical Humanities & Bioethics Lunchtime Montgomery Lectures
Category: Academic, Lectures & Meetings
Description:
The Master of Arts in Medical Humanities & Bioethics Program
Presents
A Montgomery Lecture
With
Raymond Curry, MD, FACP
Professor of Medicine and Medical Education
University of Illinois at Chicago
Senior Associate Dean for Educational Affairs
University of Illinois College of Medicine
The "Young Birth-Helpers":
Obstetrical Education at the Chicago Maternity Center, 1934-1971
The Chicago Maternity Center (CMC) provided obstetrical services for the medically underserved on Chicago's west side for nearly 80 years (1895-1974).  Medical students and residents were heavily involved in providing patient care, routinely delivering babies in patients' homes with minimal  supervision by attending physicians or midwives.  Northwestern University Medical School alumni have often spoken of these deliveries as the most formative and memorable experiences of their clinical education. This aspect of the center's history can provide a window into concepts and practices of the era with respect to experiential education, institutionally-based charity, and evolving concepts of equitable access and quality of care. This work explores the experiences of medical students over time at the CMC through a combination of prior scholarly and popular publications about the center, institutional archives, and interviews with alumni and retired faculty. The use of the CMC as an educational setting also illustrates the role that the academic medicine community played in the marginalization of care for the medically underserved in the United States. Through over-reliance upon physicians in training to provide these services, the maternity center and its university sponsor positioned themselves as charitable institutions eager to serve the community, while avoiding direct responsibility for the care of this segment of the population.
This lecture will be held in-person for Northwestern students, faculty, and staff—in the Searle Seminar Room in the Lurie Research Building (303 E Superior). Chicago Campus. For those outside the Northwestern community and anyone who would prefer to attend remotely, the Zoom option will continue to be available.
** PLEASE REGISTER TO RECEIVE THE ZOOM LINK**
CLICK HERE TO REGISTER
Read more about this series | Sign up for lecture announcements