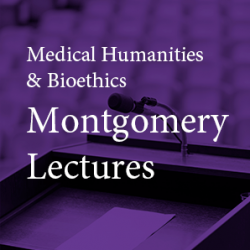 When: Thursday, February 23, 2023
12:00 PM - 12:45 PM CT
Where: Robert H Lurie Medical Research Center, 1st floor - Searle room, 303 E. Superior, Chicago, IL 60611 map it
Audience: Faculty/Staff - Student - Public - Post Docs/Docs - Graduate Students
Cost: FREE - MUST REGISTER TO ATTEND VIA ZOOM
Contact: Myria Knox (312) 503-7962

Group: Medical Humanities & Bioethics Lunchtime Montgomery Lectures
Category: Academic, Lectures & Meetings
Description:
The Master of Arts in Medical Humanities & Bioethics Program
Presents
A Montgomery Lecture
With
Jenna Nikolaides, MD, MA, FACEP
Assistant Professor of Emergency Medicine,
Medical Toxicology and Addiction Medicine
Director, Substance Use Intervention Team
Departments of Emergency Medicine and Psychiatry
Rush University Medical Center – Chicago, IL
Truth Serum and Narcoanalysis
This talk will discuss the history of the development of various "truth serums."  It will focus on the drugs that have been used, including an explanation of their pharmacologic and toxicologic properties.  It will also discuss the societal influences that lead to the search for "truth serum," the advocates for these methods, the role of law enforcement, and supreme court rulings on the practice.  Lastly, Dr. Nikolaides will explain the medical practice of Narcoanalysis, highlighting how it differs from law enforcement's past use of drug-facilitated interviews, but also how it influenced the practice.
This lecture will be held in-person for Northwestern students, faculty, and staff—in the Searle Seminar Room in the Lurie Research Building (303 E Superior). Chicago Campus. For those outside the Northwestern community and anyone who would prefer to attend remotely, the Zoom option will continue to be available.
** PLEASE REGISTER TO RECEIVE THE ZOOM LINK**
CLICK HERE TO REGISTER
Read more about this series | Sign up for lecture announcements