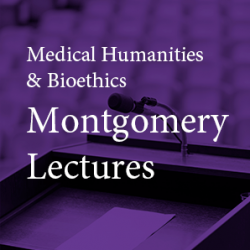 When: Thursday, March 2, 2023
12:00 PM - 12:45 PM CT
Where: Robert H Lurie Medical Research Center, 1st floor - Searle room, 303 E. Superior, Chicago, IL 60611 map it
Audience: Faculty/Staff - Student - Public - Post Docs/Docs - Graduate Students
Cost: FREE - MUST REGISTER TO ATTEND VIA ZOOM
Contact: Myria Knox (312) 503-7962

Group: Medical Humanities & Bioethics Lunchtime Montgomery Lectures
Category: Academic, Lectures & Meetings
Description:
The Master of Arts in Medical Humanities & Bioethics Program
Presents
A Montgomery Lecture
With
Wendy Kline, PhD
Dema G. Seelye Chair in the History of Medicine
Purdue University
West Lafayette, Indiana
The Purpose of the Pelvic: A Historical Analysis
Ever since the introduction of the pelvic exam as a gynecological procedure in the late nineteenth century, consumers and doctors have struggled to define the boundaries between preventive health and sexual impropriety.  In the early twentieth century, for example, cancer awareness programs were stymied by the failure of the press to print particular words deemed "inappropriate," such as "uterus, cervix, discharge, bloody, or menses." And despite the emergence of second wave feminism in the 1970s, discomfort around discussing female sex organs remains a major problem, even leading to a congresswoman getting banned from speaking on the House floor after using the term "vagina" in 2012. This shaming of women's reproductive anatomy takes a toll on all women, who have picked up the cue that they, too, should remain silent about their bodies. Researchers have documented the impact this silencing has had on women's care, including a lack of basic anatomical knowledge and the importance of routine gynecological care. In a 2017 US study, for example, only about half of women surveyed about cervical cancer screening felt they knew the purpose of the routine pelvic exam. This talk suggests that the pelvic exam is more than just a medical procedure; it is a window into a deeper, more meaningful set of questions about gender, medicine, and power.  From gynecological research on enslaved women's bodies to practice on anesthetized patients, the pelvic exam as we know it today carries the burden of its history.  By looking through that window, we can begin to understand why the pelvic exam remains both mysterious and contentious.  
This lecture will be held in-person for Northwestern students, faculty, and staff—in the Searle Seminar Room in the Lurie Research Building (303 E Superior). Chicago Campus. For those outside the Northwestern community and anyone who would prefer to attend remotely, the Zoom option will continue to be available.
** PLEASE REGISTER TO RECEIVE THE ZOOM LINK**
CLICK HERE TO REGISTER
Read more about this series | Sign up for lecture announcements