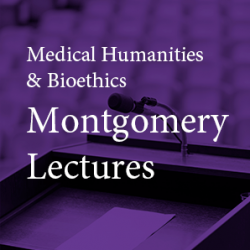 When: Thursday, March 30, 2023
12:00 PM - 12:45 PM CT
Where: Robert H Lurie Medical Research Center, 1st floor - Searle room, 303 E. Superior, Chicago, IL 60611 map it
Audience: Faculty/Staff - Student - Public - Post Docs/Docs - Graduate Students
Cost: FREE - MUST REGISTER TO ATTEND VIA ZOOM
Contact: Myria Knox (312) 503-7962

Group: Medical Humanities & Bioethics Lunchtime Montgomery Lectures
Category: Academic, Lectures & Meetings
Description:
The Master of Arts in Medical Humanities and Bioethics Program
Presents
A Montgomery Lecture
With
Mark Sheldon, PhD
Distinguished Senior Lecturer Emeritus
Department of Philosophy, Weinberg College of Arts and Sciences
Faculty in the Medical Humanities and Bioethics Program
Northwestern University Feinberg School of Medicine
A Defense of Physician Facilitated Death
Physicians do engage in activities that facilitate patients' deaths. The claim that is made is that these activities are different from what is called physician-assisted suicide. Are they? What distinctions are offered to differentiate such activities, and do the distinctions hold? What practices, which facilitate dying, are morally and professionally acceptable? This talk will consider the way in which thought on this issue developed in this country, and compare it to the Netherlands, France, and Canada. Professor Sheldon will also sketch his own views about where we should go in the future. Also, the beginning of the talk will briefly describe the way our ideas about death and its place in our existence have evolved.
In-person attendance is open to the Northwestern Community: Searle Seminar Room in the Lurie Research Building (303 East Superior Street, Chicago Campus). Zoom attendance is open to all (registration required.
** PLEASE REGISTER HERE TO RECEIVE THE ZOOM LINK**
Read more about this series | Sign up for lecture announcements