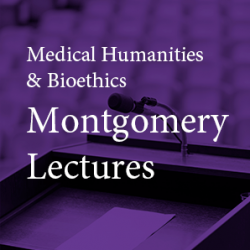 When: Thursday, May 18, 2023
12:00 PM - 12:45 PM CT
Where: Robert H Lurie Medical Research Center, 1st floor - Searle room, 303 E. Superior, Chicago, IL 60611 map it
Audience: Faculty/Staff - Student - Public - Post Docs/Docs - Graduate Students
Cost: FREE - MUST REGISTER TO ATTEND VIA ZOOM
Contact: Myria Knox (312) 503-7962

Group: Medical Humanities & Bioethics Lunchtime Montgomery Lectures
Category: Academic, Lectures & Meetings
Description:
The Master of Arts in Medical Humanities and Bioethics Program
Presents
A Montgomery Lecture
With
Rachel L. Einwohner, PhD
Professor of Sociology and (by courtesy) Political Science
Purdue University – West Lafayette, IN
Jewish Resistance During the Holocaust: 
Lessons from the Past and Guidance for the Future
Most popular accounts of the Holocaust depict Jewish people as passive victims who went to their deaths "like sheep." A common question is, "Why didn't they resist?" In this talk, I ask the opposite question: Why did Jewish people resist? I pose the question this way because from the perspective of theory and research on social movements, collective Jewish resistance should not have happened. By comparing resistance efforts in the ghettos of Nazi-occupied Warsaw, Vilna, and Łódź, I argue that decisions about resistance rested on ghetto residents' assessments of the threats facing them; armed resistance took place only once activists reached the critical conclusion that they had no hope for survival. An examination of Jewish resistance carries lessons for contemporary action in a variety of settings, including resistance by health care professionals against state restrictions in medical procedures.
In-person attendance is open to the Northwestern Community: Searle Seminar Room in the Lurie Research Building (303 East Superior Street, Chicago Campus). Zoom attendance is open to all. Registration required.
** PLEASE REGISTER TO RECEIVE THE ZOOM LINK**
REGISTER HERE
Read more about this series | Sign up for lecture announcements