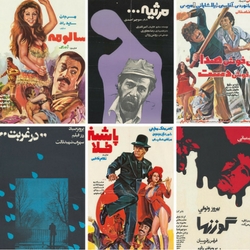 When: Thursday, November 17, 2016
7:00 PM - 9:00 PM
Where: Block Museum of Art, Mary and Leigh, 40 Arts Circle Drive, Evanston, IL 60208 map it
Audience: Faculty/Staff - Student - Public - Post Docs/Docs - Graduate Students
Cost: Free and Open to the Public
Contact: Lindsay Bosch 847.467.4602

Group: Block Museum of Art
Co-Sponsor(s):
International Education Week
Alice Kaplan Institute for the Humanities
Buffett Institute for Global Affairs
Middle East and North African Studies

Category: Academic
Description:
Join us for the capstone event of the Salaam Cinema program!
Renowned international scholars and artists will convene at the Block Museum to discuss the art of movie poster design, the art and industry of film, and the unique culture of cinephilia in Iran. Filmmaker Rakhshan Banietemad will open the symposium with a discussion and screening of her 2014 film Tales (Qesseh-ha). The symposium will close with a tribute to legandary Iranian filmmaker Abbas Kiarostami presented by his son, Ahmad Kiarostami.
DAY ONE: THURSDAY, NOVEMBER 17
5PM: Ovanes Ohanians – Mr. Haji, the Movie Actor
(Haji Aqa, Aktor-e Sinema), 1933 (60m, silent, w/ live piano accompaniment)
7PM: Screening with Rakhshan Banietemad in person - Tales
(Qesseh-ha), 2014 (88m)
DAY TWO: FRIDAY, NOVEMBER 18
9AM: Symposium Panel 1: Cinema Art
Panel chaired by Salaam Cinema curator Hamid Naficy
Kaveh Askari - Relayed Prints and Midcentury Assemblages
Michelle Langford - Sohrab Shahid Saless, A Filmmaker "Between Two Stools": From New Iranian Cinema to New German Cinema
Negar Mottahedeh - Oil and Water and a Revolution in Film
Mehrnaz Saeed-Vafa - Watching Hollywood Movies in Iran and Their Impact
1:30PM: Symposium Panel 2: Poster Art
Panel chaired by Salaam Cinema curator Michelle Puetz
Ruth E. Iskin - Posters as Art: Integrating Aesthetics and Function in the Nineteenth Century
Shiva Balaghi - Tracing History: Iranian Film Posters from the 1960s and 70s
Hamid Dabashi
Rambod Vala -To Cinema it May Concern

4:30PM: Screening with Ahmad Kiarostami in person – A Tribute to Abbas Kiarostami (select new works)
Symposium co-sponsored by Northwestern University Department of Anthropology, Department of Radio-TV-Film, Screen Cultures Program, International Studies Program, Buffett Institute for Global Studies, Kaplan Center for Humanities, Middle and North African Studies Program and the Center for Global Culture and Communication.