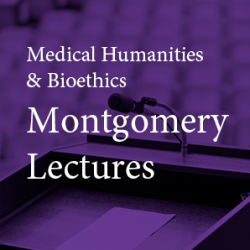 When: Thursday, October 29, 2020
12:00 PM - 12:45 PM Central
Where: Online
Audience: Faculty/Staff - Student - Post Docs/Docs - Graduate Students
Cost: FREE - REGISTRATION REQUIRED
Contact: Myria Knox 312.503.7962

Group: Medical Humanities & Bioethics Lunchtime Montgomery Lectures
Category: Academic, Lectures & Meetings, Multicultural & Diversity
Description:
The Master of Arts in Medical Humanities & Bioethics
Presents
A Montgomery Lecture
With
Noelle Sullivan, PhD
Associate Professor of Instruction
Program in Global Health Studies
Northwestern University
Creating Moral Commodities: 
Marketing in the For-Profit Global Health Volunteering Industry
Global health travel interest has spiked over the last two decades. In response to the demand by students in particular, hundreds of international "voluntourism" companies have emerged. These companies offer placements in health facilities in the so-called Global South where students can intern, complete an elective, or volunteer. As public debates about the ethics of "voluntourism" have become common, companies have responded by advertising themselves as providing ethical, safe, and worthwhile placements where students can help "make a difference" in under-resourced health facilities. Yet in spite of companies' advertising pivot emphasizing the impact and ethical nature of their projects, the industry nonetheless creates an enabling environment for unethical engagements and practices that undermine the safety and quality of health care. This talk emerges from Sullivan's book manuscript in progress, The Business of Good Intentions: Reframing the Global Health Volunteering Debate, based on ethnographic and online research undertaken from 2008-2017.
**REGISTRATION REQUIRED**
REGISTER HERE
Read more about this series | Sign up for lecture announcements