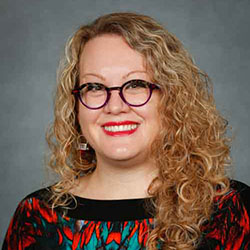 When: Wednesday, April 18, 2018
12:00 PM - 1:15 PM
Where: 620 Library Place, Room 106, Evanston, IL 60208 map it
Audience: Faculty/Staff - Student - Public - Post Docs/Docs - Graduate Students
Contact: Program of African Studies 847.491.7323

Group: Program of African Studies
Co-Sponsor(s):
Institute for the Study of Islamic Thought in Africa (ISITA)

Category: Lectures & Meetings
Description:
Join the Program of African Studies for our weekly lunch and lecture.
Cosponsored by the Institute for the Study of Islamic Thought in Africa (ISITA)
ISITA seminar: Congo's Islamic Borderland
Ashley Leinweber, Political Science, Missouri State University
Short Bio:
Ashley E. Leinweber is Assistant Professor of Political Science and Interim Director of the Graduate Program in Global Studies at Missouri State University. She teaches undergraduate and graduate courses on International Relations, International Organizations, Model United Nations, and African Politics. Her research focuses on the political engagement of the Muslim minority of the Democratic Republic of the Congo (DRC) and has been published in Cahiers d'Etudes Africaines (June 2012), Review of African Political Economy (March 2013), Writing Boards and Blackboards: Islamic Education in Africa (2016), among others. She was also a Peace Corps Volunteer in Niger from 2002-2004.
Paper Abstract: "Congo's Islamic Borderland"
Borderland studies have tended to focus on areas experiencing isolation or interaction along international boundaries. This paper boldly argues that the Maniema province of Eastern Congo, despite its lack of international borders, does indeed represent a distinct borderland because of its unique historical and cultural connection and marginalization from the larger East Central Africa region and the Congolese state. While Christianity is the dominant religion in Congo, a significant Muslim minority exists in the eastern provinces, and particularly in Maniema, as the result of the expanding ivory and slave trade of Swahili-Arabs from the East African coast in the pre-colonial era. After an initial period of close interaction, the Muslim community was plunged into isolation from the broader Islamic society of East Africa by a suspicious Belgian colonial administration. Muslim Maniema also resembles a borderland due to the community's shifting separation from and identification with the state, both in the colonial and post-colonial periods. Therefore, this paper presents Muslim Maniema as a borderland that at times is defined by its separation from the Congolese state or the larger Muslim society of East Africa, while at other times is incorporated into broader national and regional society and politics.